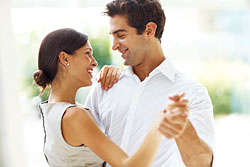 Single, Divorced or widowed in Switzerland?
You have a good life but would now like to share that with a great partner? Whether you are in Geneva, Lausanne, Zurich, Basel, Bern or the Tessin, the SuccessMatch Premium Dating Service provides a secure, discreet and enjoyable way of dating, the first step to meet that special someone.
The SuccessMatch Premium Dating Service Overview:
50 minute Skype consultation
1 hour face to face consultation with the SuccessMatch matchmaker
Registration in our confidential database through an online registration form
Establishing an attractive client profile
Review of the profile with the client for final approval
Entering the profile in our confidential database
Opportunity to be listed on our website with completely confidential mini profile
Selection of match proposals based on your criteria
Personal profiles of potential partners which includes background, interests, values and expectations
Complete coordination of all your first dates by SuccessMatch
Access to your matchmaker via phone or Skype
Feedback form after each first date
6 month contract
Mid contract assessment
How the SuccessMatch Premium Dating Service works
1. Schedule your 50 minute first Skype consultation with SuccessMatch
During this consult the SuccessMatch matchmaker will get a good understanding of who you are and whom you wish to meet and whether our services are right for you.
2. Sign the agreement, complete your confidential registration form and pay the fees
Once we have decided to work together, we will send you a contract. After signing the contract we will send you a link to a confidential questionnaire that you need to complete. We also ask that you upload a minimum of three high resoluton, recent photos that show you at your best. We will create your profile and will send it to you for review and approval. Upon payment of the fees we move to step 3.
3. Meet Your personal Matchmaker face to face
This allows us to get a better feel and understanding of you and helps us making you quality matches
4. The matching process starts
As soon as our experienced matchmakers have found you a potentially compatible match, you will be notified by email. You will receive the confidential profile of the proposed candidate.
5. Meet your Date
SuccessMatch coordinates the logistics of all your first dates. We will need to know your availability to meet so that we can make the restaurant reservations and send you the date confirmation with the details of where and when it will happen. All you have to do is show up and enjoy your date!
If you get on well and would like to see each other again (over 70% of the people we match do!), it is up to you to exchange names and numbers. If the date did not work out, we are sure that you at least enjoyed meeting an interesting person, and we will be happy to propose a new match.
Get started today and contact SuccessMatch to schedule your first complimentary phone consult
Confidential and secure
Premium Dating is a confidential and secure process. In order to ensure the quality of the people you would like to meet, we pre-screen them in person and get to know each of our clients individually.
Only the SuccessMatch staff has access to all of the profiles of our clientele. Only the clients we will match you with will see your confidential profile. SuccessMatch will never disclose member's full names or contact details.